Below is a scene that includes a Church done in stages and explained in Alan's own words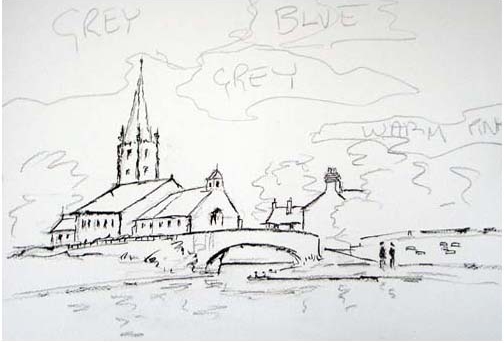 For this painting I am using Bockingford 140lbs NOT watercolour paper. I have penned the outline here to help with viewing on the website but you would draw it lightly in pencil. You will see that I have marked on colours in the sky to enable me to make reference to them. You will not, of course, pencil them onto your sketch. The grey in the clouds is made with Paynes Grey & Burnt Sienna. The Blue will be Paynes Grey and Winsor Blue (only a touch) I will also use it in the water.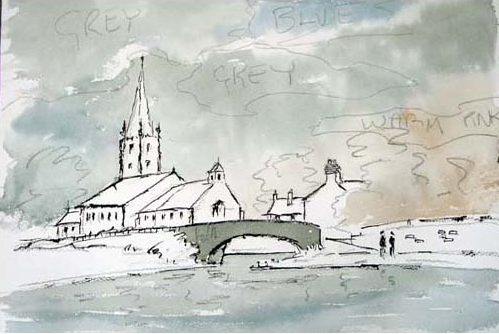 The sky looks a little dull here but don't worry, it's the camera balance…… the colours that I am using here will look so much better in real life. The bridge is again in Paynes Grey and a little Burnt Sienna but this time mixed a little stronger. Wash across the water with a weak mix of Paynes Grey. Notice that at this time we're keeping everything in the same tone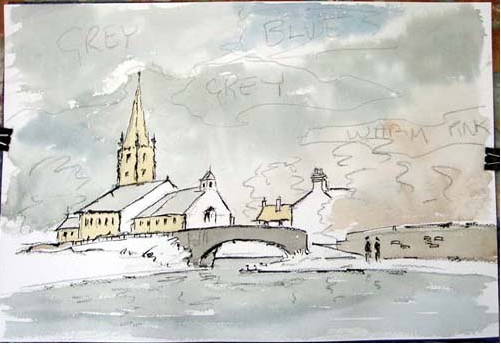 Now I have added some Raw Umber/Cad Yellow mix to the church. The church roof was the sky colour and the wall was Paynes Grey with a touch of Raw Umber.
Now after adding the dark trees (Paynes Grey, Winsor Blue and a touch of Raw Umber) we can see it coming together. Add a few trunks to the tree and pop a couple of dark figures on the path. Paint in shadows with the same dark colour used for the trees but with an extra touch of Paynes Grey added to it. Wash across the water again with some very weak Paynes Grey………
………and there you are……..all it needs is your signature.
Thanks to all ….Alan Owen 2012